The space industry in support of local economic development
The Space for Med initiative was launched by the European Investment Bank and the European Space Agency to identify local economic development opportunities in order to create a new technological sector.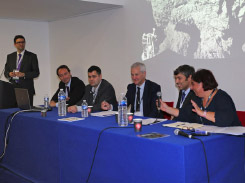 The European Space Agency (ESA) believes that in the future we will see "space services used every day". The ESA was created in 1975 by eleven European countries and now has twenty-two members. This inter-governmental institution works to develop space use and ensures that the citizens of Europe and the rest of the world continue to benefit from investments. In 2012, it launched the Space for Med initiative in collaboration with the European Investment Bank (EIB). On 5 November 2015, during the Mediterranean Economic Week, both partners presented their joint programme for the Southern and Eastern Mediterranean Basin. "This is a complex and pioneering partnership for both the EIB and the ESA", explains Julien Serre, Political and Strategic Advisor at the EIB.
Space for Med takes space technologies and applies them to major economic sectors, such as water management, transport and logistics or renewable energy.
For example, the SatADSL satellite services provider uses space transmission technology to transfer money abroad from any country.
Private investment in this field can prove to be lucrative. The space development market is worth an estimated $11 billion. A $27 million investment in Space for Med projects has already generated $107 million in revenue, according to information from the EIB.
Many projects are already being rolled out, primarily for water resource management. One of them was designed by the SME, Noveltis, to estimate water requirements as viewed from space. In concrete terms, "it uses satellite data that transmits images at a resolution of 50cm to 1m. For lower altitudes, we can also use drones which take higher resolution images. We use space or airborne technology depending on the scale at which we wish to study l and use.
Other companies are also using space technologies to work in similar or other fields, including Mott MacDonald and BlueDot Solutions (water management) and TIS (transport and services).

Written by: Harry Hozé
Proofread by: Pierre Massis and Camille Rajon
Editor-in-Chief: Elsa Larue de Tournemine
Photo: Bernard Royo