"Making the Mediterranean an employment hub for young people": Launch of HOMERe
The official launch of HOMERe project in Marseille will provide an opportunity to discuss young graduates' transition to an active life in the Mediterranean region and the leverage which transnational company internships can have in helping them access the labour market. The testimonials from the first participants will illustrate how HOMERe works and its added value for young graduates and for companies.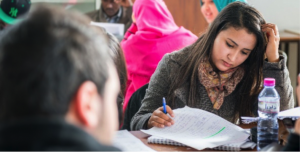 The goals of the HOMERe project – a regional programme to promote transnational internships in the Mediterranean, labelled by the UfM Member States in December 2014– will be presented to the region's business leaders and heads of training for the first time during its official launch on 17 March 2015 at the Villa Méditerranée in Marseille.
 This event will bring together about one hundred economic and academic players from both shores of the Mediterranean to discuss issues such as the current employability and mobility challenges faced by young graduates, and the development of businesses in the Mediterranean. During the afternoon there will be bilateral meetings for those companies that wish to join the programme.
"HOMERe – High Opportunity for Mediterranean Executives Recruitment" is a ground-breaking transnational company internship programme between nine countries (Algeria, Egypt, France, Greece, Italy, Lebanon, Morocco, Spain and Tunisia) which aims to improve young graduates' skills and employability prospects. Any companies that wish to take part or pursue their development on the northern or southern shores of the Mediterranean can, through this programme, benefit from HOMERe's operational support to locally identify the student profiles that best meet their needs, in order to train them through an international final-year internship and then recruit them in their home countries.
 HOMERe fulfils two major objectives: the promotion of youth employment, in full accordance with the UfM Mediterranean Initiative for Jobs (Med4Jobs), and the private sector development in the region. By improving student access to international mobility and to the acquisition of skills in a professional environment, HOMERe contributes to increasing their labour market opportunities, while also supporting the development of businesses, especially SMEs, in the Mediterranean.
 Started by the Réseau Méditerranéen des Ecoles d'Ingénieurs et de Management (RMEI) and the French Foreign Trade Advisors, the project is promoted by a regional consortium bringing together the Association of the Mediterranean Chambers of Commerce and Industry (ASCAME), the Union of Mediterranean Confederations of Enterprises (BUSINESSMED), the Office of Economic Cooperation for Mediterranean and Middle East (OCEMO), the Mediterranean Universities Union (UNIMED) and Campus France, as well as representative professional organisations from each country, such as AIFE (Egypt), ASMEX (Morocco), CEIMI (Algeria), CNI (Italy), OIT (Tunisia), etc.