Les Voûtes de la Major - a source of inspiration for Alger
---
A delegation composed of elected officials from the City of Marseille and Euroméditerranée representatives gathered in Alger on the 10th and 11th of May. The opportunity to address cooperation and development projects, especially urban development and upgrading the old port of Alger, the Fishery district.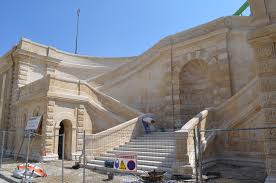 "When we look at the Old Port of Marseille and then compare it to the one in Alger, their resemblance jumps out at you. These two great beautiful sites were conceived from a similar model" explains Jean Roatta, Deputy Mayor of Marseille who is in charge of international relations and Euromediterranean cooperation. "During these last visits to Marseille, the Wali of Alger discovered the recent transformation of the Vieux Port and the Euromediterranean district and especially Les Voûtes de la Major, which propose trades dedicated to fashion and culture as well as a quality restoration of more than 6000m2. These areas have become one of the places privileged by tourists and local Marseillais alike (1). The Wali was totally charmed…so much so that he wants the same for his city!"
The port of Alger also has archways but the district is dilapidated. The quays mostly have hangars. "With the Euromediterranean team, we wish to accompany the Wilaya of Alger during his big urban project. That's the reason we organise meetings with architects and companies, especially those who thought up Les Voûtes de la Major. In the coming weeks, a technical delegation led by the General Secretary of the Wilaya of Ager will come to Marseille to enable the communal project to be conceived, with a mixed Franco-Algerian company, which will be submitted to the Wali of Alger and to the Mayor of Marseille. If this project is validated, the transformation of the old port of the Alger Fishery district which is inserted in the strategic plan of the city of Alger 2015-2030 could begin as of 2017. It is a great opportunity for Algerian companies but also French ones, where expertise is an important asset."
---